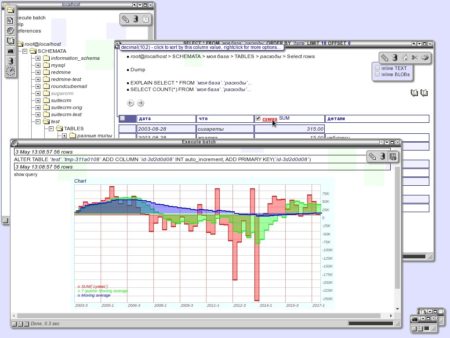 Web-interface for MySQL database administration. Demo, packages for Enterprise Linux.
MySQL is an open-source relational database management system which is a central part of the LAMP web application software stack.
Features
Many frequently used operations are supported by the UI.
Allows you to manage DB users and privileges.
Has the ability to execute any SQL statement.
A suitable query result can be instantly displayed as a chart.
Permits you to edit several rows in a compact table.
Supports exporting selected rows in SQL format.
Enables you to monitor DBMS performance metrics.
Includes a simple DOM browser.
Screenshots
Demo
Close the popup after successful login.
Downloads
Generic distribution
Packages for Enterprise Linux
Installation
Unpack the archive under your webserver's document root.
Ensure the installed files have appropriate permissions. Verify that

cache

subdirectory is writable by the webserver.
Edit

share/etc/User.inc.php

and

applications/admin/etc/User.inc.php

to change the defaults.
Support